The aircraft industry moves to the jet plane era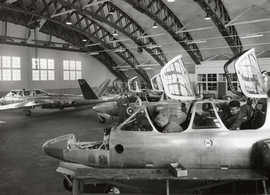 As the result of the negotiations that were handled efficiently by Major-General Adolf Ehrnrooth, Finland bought the manufacturing licence of the French Fouga CM 170 Magister jet training plane. The Ministry of Defence and Valmet Oy signed a contract for manufacturing the planes in October 1958.
The manufacture of the Fouga Magister series in 1959 - 67 improved employment in Kuorevesi; new sheet metal workers and mechanics were trained. The 62 Fouga Magisters built in Finland increased the employee numbers to 250.

Halli airfield is rebuilt
The introduction of jet aircraft caused changes in the airfield of Kuorevesi. At the end of the 1950s, the airfield was hard enough but unsurfaced, which caused dust problems. The first jet plane to take off and land in Kuorevesi in the year 1956 was an English Vampire piloted by Viljo Salminen. Because of the shortness (1400m) of the field and the lack of surfacing, summer test flights had to be performed in Luonetjärvi.
In August 1959 Kuorevesi airfield was extended and coated with tarmac. After a few years the field was extended even more to 2,500 metres and it became the longest in Finland. The residential area of Vehkaoja was demolished to make space for the extension. The name of the field was changed from Kuorevesi to Halli in 1963.
Finland's first test pilot course was held 1956 - 57
Test flight training was offered in Finland from the end of the 1950s. Up til then skills were acquired by doing and by watching more experienced pilots. Test pilot courses abroad were not an option due to financial reasons. The first course was held from 1May 1956 to 15 January 1957. The instructors were flight depot chief Vilppu Perkko and Esko Halme, Valmet Oy test pilot. The course participants were Veikko Hietamies, Viljo Salminen, Mauno Tiiro and Kalervo Tiitinen.
The aim of the course was to familiarise the participants with development, production and reception flights for the Air Force and the aircraft manufacturer. The Vihuri series and the prototype of the Tuuli III were currently in production, so propeller planes made up a large part of the curriculum despite the current transition to jet planes.