This article is not available in English. Please select another language from the navigation bar at the top.
Rukous Jämsän kirkossa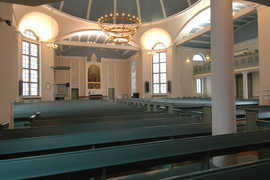 Tässä olen Jumalani.
Kiirehdin tyhjään kirkkoon hiljentyäkseni,
löysin turvallisen paikan takapenkiltä.
Alttarilla palavat kynttilät,
ehtoollisvälineet ovat esillä.
Odotus täyttää mielen.
Siunaa seurakuntaasi,
joka iloineen ja huolineen saapuu eteesi.
Kiitos, että olet kutsunut meidät työtovereiksesi.
Pyydämme siunausta jumalanpalvelukseemme.
Avaa huulemme ylistämään sinua sanoin ja sävelin
ja tyynnytä Hengelläsi levottomat mielemme.
Puhdista meidät käyttöösi.
Aamen.