Työn Äärestä magazine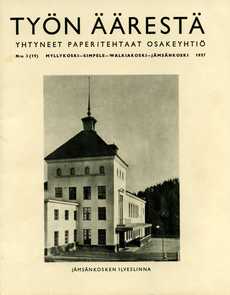 United Paper Mills Ltd and Ab Walkiakoski launched a shared staff magazine in 1931. The magazine title was Työn Äärestä. The factory units, Simpele, Myllykoski, Jämsänkoski and Valkeakoski, and from the 1950s Kaipola in Jämsä were located around the country. The aim of the magazine was to bring the company employees closer together and to reinforce their sense of unity. Työn Äärestä was one of the first Finnish staff magazines. Other similar publications by forest industry companies operating around the country were the Serlachius company's Tehdas ja Me and Ahlström's Me Kaikki.
Työn Äärestä appeared until the year 1996.
The magazine was printed on Jämsänkoski paper and the covers on Valkeakoski kraft paper until 1936. At first, the magazine came out three times a year and by the end of the decade had expanded to more than 60 pages. The contents included news items from the various locations of the corporation, personal news, and information on sporting events organised in the mill towns and villages. The contents also considered workers' families, as articles on homecraft were regularly included. The magazine published 50th and 60th birthday photos and biographies of staff members. This was an honour one could not refuse. The first Editor of the magazine was the company welfare inspector Lilli Vuorela.
The company and local newspapers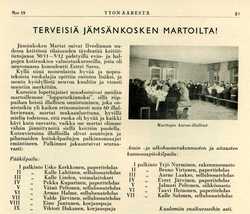 United Paper Mills Ltd partially owned the local newspapers of Valkeakoski, Jämsänjoki valley and Simpele. United became a shareholder of Jämsän Lehti Oy in the 1950s. In 1953, Jämsän Lehti and the company agreed that the number of issues of the paper should be increased to three a week. The paper size was also increased, and its title became Koillis-Häme. The influence of United at the paper was considerable; up to 1964 company representatives were Chairmen of the Board of the newspaper company, as well as being part-time managing directors. United became the majority shareholder of Jämsän Lehti Oy in 1975, and soon United printing activities were centralised in the company. In 1984, the newspaper company was sold to the Aamulehti corporation.
The management of United believed that local newspapers should only concentrate on local news; events and activities of associations and clubs. Local papers were seen as supporters of the company social function. Their affairs were discussed in company social meetings in the same way as those of its own staff magazine. Company issues were reported in local newspapers only on the company's instructions, and there was practically no criticism. Problematic issues, such as questions of effluent or air pollution, were only broached at the end of the 1960s.