Paper processing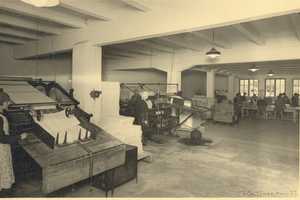 Ruled and cross-ruled paper had already been made at Jämsänkoski paper mill in the 1920s. During the war, the ruling section was enlarged and the manufacture of writing pads, envelopes and shelf lining paper started. Operations and machines were moved from Valkeakosken Paperituote to Jämsänkoski, where its own processing department gradually took shape. During the Winter War paper was used to make protective gas cloaks and garment bags. After the war the department also manufactured products for war reparations.
In the 1950s, big exercise book orders were delivered to the Soviet Union, and the most famous film stars of the time appeared on the covers of writing pads. In 1958, three machines making Satona cartons were moved from Valkeakoski, and the manufacture of milk cartons started in the processing department. Perga cartons were added to production in 1963. The manufacture of Satona and Perga cartons was short-lived, as board made from sulphite pulp could not compete in price with board made from sulphate pulp. Production ceased in 1970.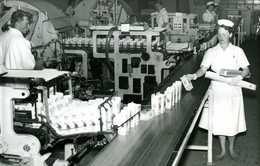 Most of the school exercise books used in Finland were made in Jämsänkoski. Production of exercise books and writing pads remained steady throughout the 1960s. The production amounted to about 9 % of the total revenue of the mill. The department was given larger premises on the Myllymäki industrial estate during the 1970s. After Rafael Haarla Oy merged with United in 1977, Jämsänkoski focused on exercise book and writing pad production. From 1988, the processing department of Jämsänkoski was part of the Walki-Paperisto profit centre, which in 1995 was named Walki Stationery. UPM-Kymmene Oyj sold the exercise book production to Norwegian Lindegaard in 1998, who sold it to the American company, Smead.