The museum buildings and collection
The museum buildings were moved to the museum area from all around Kuorevesi. In the beginning of the 1960s the museum received the Juhala smoke cottage from Vessarinkylä village and the granary and clothes shed were soon to follow. The last building to be moved to the area was a drying barn in 1982. The museum has over 3,000 catalogued artefacts, most of which can be seen in their natural surrounding.

The main room of the main building was probably first heated by smoke and only later modified to be heated by a stove. Its interior is in the style of a room from the 19th century and it also functions as a meeting room for the society. The stove has been made in the style of the original. The main room has been added to with a hallway and two bedrooms. In the back of the hallway there is a kitchen, which also serves as the museum's cosy office. One of the bedrooms was the bedroom of the master and mistress of the house and the other was the guest bedroom, with stencilled wallpaper patterns on the walls.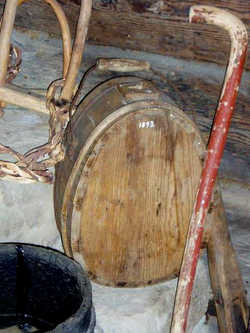 The upper floor of the main building houses a small exhibition of artefacts, including different textiles, artefacts related to the depression and war time and a shoemaker's tool kit. There you can see for example the things of Greta Helin, who died the oldest person in Finland, a still cover, a carbide lamp, the wolf skin coat of Dean Laaksi and the Lotta uniform of Eeva Laaksi.

On the other side of the yard is the Juhala smoke cottage, where you can absorb the shadowy atmosphere of the 18th century. The bedrooms at the other end of the smoke cottage have been joined to make an exhibition room that shows the 40-year history of the museum and water colours painted by the visitors of the museum hill art camp.
Other buildings in the museum area are fish and clothes storage sheds, a granary, drying barn, hay barn, tool shed, workshop and milk, food and coffee storage shed. The collection also includes the church boat Liukas which is kept at Kuorevesi church.