Timber supplies for sawmills and pulp mills 1800 - 1920

With the advent of water-powered sawmills, forest timber stocks gained in value in an unprecedented way. Obtaining a licence for establishing a sawmill required a government assessment of available timber resources. For example, the number of logs from forests inspected in 1792 for Jämsänkoski sawmill was 3,280 logs a year. Due to fears of excessive logging, permitted outputs of sawmills were in general determined as very low.
At first, logs were mainly bought from the forests of nearby villages, where stocks had been assessed at the time of founding sawmills. Gradually the supply area was extended across parish boundaries. The logs were brought to the sawmills by floating, from Petäjävesi in the north and along the river from the south. In the river Jämsänjoki, the logs were gathered in rafts or 'litkas' that were hauled by a steam boat. Although few logs were floated along the river compared to other routes, occasionally even the church boat would have to interrupt its journey due to logs blocking the river.
After the Rekolankoski sawmill began operation in 1861, demand for timber continued to grow. In the 1870s, Jämsä was living through the peak period of the 'great log movement'. Severus Konkola, who later purchased the Rekola sawmill, became a key person in Jämsä log trade, with timber procurement reaching the Keitele waterways. Konkola sold and acted as agent for timber also for the first Jämsänkoski pulp mill. The sawmill took large logs, while smaller timber was acceptable for pulp cooking.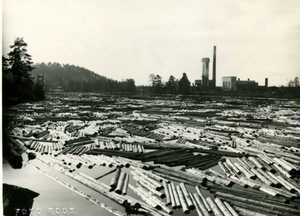 The factory's timber procurement area extended out to Multia. In 1893, Jämsänkoski factory advertised for 500 men to drive pulp logs. The timber was brought to the factory and sawmill by floating, or in wintertime by horse and sledge. At first there was no designated timber storage area, but there were stacks of paperwood and logs here and there on the factory hill. Later, the factory firewood and paperwood were stored on the river bank below the factory - on Alaja field - where the logs coming from Lake Päijänne were collected. The paperwood brought to Koskikeskinen by floating were hauled onto dry land at the Saukko bend, roughly on the site of the present indoor swimming pool.
Link:
Metsätorpanmaa