Pre-industrial era, Jämsänkoski mills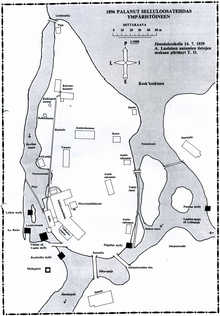 Farmers' communal mills are known to have stood by the rapids running into the Jämsänjoki river as early as the 1500s. Indeed, the rapids became a well-known mill site known beyond the borders of the parish of Jämsä. The mills were either for private use shared by a few farmhouses or larger toll mills, which ground grain throughout the year. Toll mills also ground grain for outsiders, and a tax or toll was paid to the Crown for the operation. In 1586, there were four toll mills working at the rapids.
At the end of the 1800s, seven mills in all were working at the rapids: In Lunkkuhaara, the Rustholli mill, Old Mill, Isoratas, built by the sawmill owner Jack, and the Löllö mill. In Patalankoski rapids were the Rectory and Patala mills. The Tonttula mill stood at Rekolankoski rapids. The Rustholli mill and Isoratas were wheel mills, the others small Norse type wheel mills. At the end of the 1800s, a bone mill also operated for a time attached to the Löllö mill.
In Jämsänkoski, too, shares in the rapids were divided between dozens of owners. Over the years, the manufacturing company bought shares in order to increase its use of water power, but the mills remained in the landscape alongside factory buildings up to the early 1900s. As payment for shares in the rapids, manufacturing companies offered free grinding rights, i.e. farmers had the right to have their grain ground free in the mill built by the company. In Jämsänkoski, the company mill was built by Rekolankoski rapids in the early 1900s.