This article is not available in English. Please select another language from the navigation bar at the top.
Opintiellä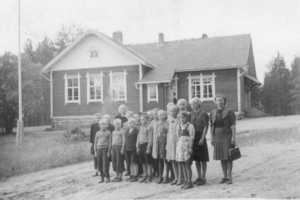 Ennen kansakoulujen perustamista kirkko huolehti kansanopetuksesta. Lukukinkereitä järjestettiin 1600-luvun lopulta alkaen.
Lukuspiirit toimivat kiertokoulun opetusalueina 1860-luvulta alkaen. Tunnit pidettiin talojen pirteissä. Kansakoulu Haavistoon perustettiin vuonna 1903. Koulurakennus valmistui vuonna 1908. Alakansakoulu aloitti vuonna 1925 ja sai oman koulutalon vuonna 1937.
Haaviston koulupiiri lakkautettiin vuonna 1959, viimeiset koululaiset alakoulussa olivat vuonna 1965.