This article is not available in English. Please select another language from the navigation bar at the top.
Länkipohjan rautatieasema
Rataosuus Orivesi - Jämsä aloitettiin Orivedeltä vuonna 1938. Paikkakunnalle muutti tuolloin ammattirakentajia. Sota-aikana rakennustyössä käytettiin sotavankeja. Rautatie valmistui vuonna 1952, jolloin henkilöliikenne Länkipohjan asemalta alkoi.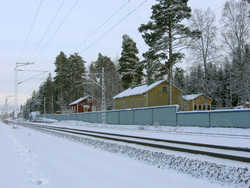 Länkipohjan asema, laiturirakennus, on rakennettu vuonna 1942. Samana vuonna ovat valmistuneet asuin- ja ulkohuonerakennukset, kellari sekä sauna- ja pesutuparakennus. Öljyvaja-, paloruisku- ja resiinavaja on rakennettu vuonna 1948.
Asemarakennukset ovat yksityisomistuksessa.
Teksti
Kristiina Kokko
Lähteet
VR-Yhtymä Oy, Kiinteistöyksikkö.
Yhtäälle yhlen askeleet. Menneitä kerännyt: Eila Vanhatalo, 2003.