This article is not available in English. Please select another language from the navigation bar at the top.
Niilo, Valto ja Uuno - ilmailun pioneerit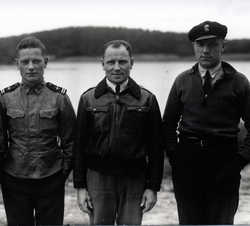 Karhumäen veljekset Niilo, Valto ja Uuno olivat suomalaisen siviili-ilmailun pioneereja. Veljesten ensimmäinen omatekoinen lentokone Karhu 1 valmistui Jyväskylän Keljossa 1925. Omatekoisilla koneilla he aloittivat yleisölennätykset, lentokoulutuksen ja ilmavalokuvauksen 1920-luvun lopulla. Veljesten lentokonetehdas valmistui Kuoreveden (nykyisin Jämsän) Halliin 1940. Veljekset Karhumäki Oy aloitti suomalaisen chartermatkailun 1950-luvun alussa ja oli tällä alalla koko Euroopan ensimmäisiä. Kansainvälistymisen myötä lentotoiminnassa alettiin käyttää liikenimeä Karhumäki Airways, sittemmin Kar-Air Oy.