Greatest factory fires


Chemical pulp mill fire 1926
The fire started in the evening of 12 February. As well as Jämsänkosken VPK, Jämsä fire brigade and local residents took part in fire fighting. They succeeded in limiting the fire to the parts of the factory on the north side, regardless of the hard frost and noxious gases released from the factory hampering the efforts. The fire also took the lives of two firemen.
Old sawmill fire 1928
The timber-built sawmill in the upper factory yard, with its planing mill and part of sawn and raw timber stores burned down in June 1928. The fire was thought to have started from an overheated motor. The fire brigade attended quickly and prevented the fire from spreading to nearby wooden buildings.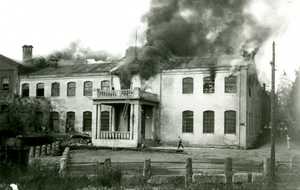 The assembly hall fire 1936
The assembly hall built into the premises of the old paper mill by Patalankoski rapids burned down at Midsummer 1936. The fire started from a lightning strike and spread quickly in the attic and roof structures. The fire brigade was unable to save the building, but concentrated its efforts on protecting nearby buildings. The same midsummer thunderstorm started other smaller fires, too, in the village centre.
Alaja sawmill fire 1942
The company sawmill at the riverside in Alaja caught fire in summer 1942. Due to the strong wind, the fire quickly destroyed the sawmill, drying house and wood yard. The fire also spread to some barges in the dock and the pulpwood store. In addition to Jämsänkosken VPK, units from as far as Jyväskylä and plenty of volunteer help took part in an effort to put out the fire. Ships and most of the barges that were sailing at the time were saved from the fire.
Olkkola sawmill fire 1993
Machines from the discontinued Olkkola sawmill had just been removed, but part of the sawmill building was still undemolished, when the fire started in May 1993. The dry wooden building exploded into flames in a flash, and units from Jämsä and Jämsänkoski fire services could do nothing other than try to prevent the fire spreading into the environment. Olkkola sawmill had been built in 1946 and had not burned down once ever since, which is quite exceptional in the sawmill industry.