Kaipola works fire brigade
The Kaipola works fire brigade was established in 1953. It was assembled mostly from men commissioned from Jämsänkoski and Valkeakoski. Some of their first assignments were transporting water in the fire engine from the Pitkäjärvi lake to the works boiler room and to pump water out of foundation dug-outs in building sites. The fire station was given premises on the ground floor of the old paper mill. The new depot and fire station building was completed in 1963. The control room was the power station turbine room. The fire brigade obtained an ambulance in 1958, and ever since operating the ambulance has been a part of the work of the fire brigade.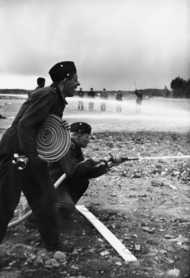 The worst fire at Kaipola took place on Christmas Eve in 1961. The fire destroyed the cylinder felts of PK 1 papermaking machine and damaged electric cables and air conditioning equipment and the hood of the machine. The fire turned into a practical lesson in fire fighting in a paper mill. Knowledge of chemicals, machinery and equipment is essential in fire fighting. The firemen must have good local knowledge when moving around the factory buildings.
Every year, several small potential fires are ignited in papermaking machines, making first actions most important. In the 1960s and 70s, paper mill operatives were also given training at Kaipola. A system of shift firemen was organised in the factory; trained persons who knew what to do in case of a fire were placed in each shift. Driermen, greasers and packers were trained as shift firemen. The factory acquired an automated sprinkler system only in the mid-1970s.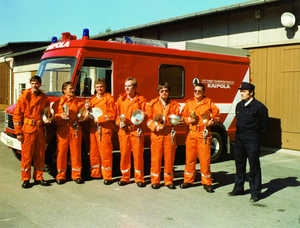 Present fire protection is based on modern automation, constant prevention and professional expertise of the works fire service. Training is organised also for factory staff. The shift fireman system was discontinued in the 1990s. The Kaipola works fire service comprises about 20 men, and its remit has extended from actual fire fighting to controlling oil and dangerous substances. Diving work has been part of the operation of the fire service from the 1960s.