This article is not available in English. Please select another language from the navigation bar at the top.
Palsinan ja Leiriniemen kioskit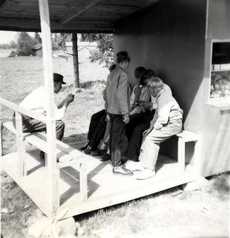 1950- ja 1960-luvuilla Palsinan Osuuskaupan vieressä toimi kioski, jota kylän nuoret pitivät auki iltaisin ja viikonloppuisin. Kioski oli suosittu kokoontumispaikka. Sen yhteydessä oli lentopallokenttä.
Kuoreveden kunta osti vuonna 1965 Kertteeltä paikan leirintäalueelle, joka avattiin yleisölle kesällä 1968. Leirintäalueen yhteydessä toimi kesäaikaan kioski. Sitä pitivät ainakin Honkalan veljekset, Laina Sillanpää ja Kuoreveden eläkeläisten yhdistys.