Tractor cabs make way for composites
Halfway through the 1980s the development of composites to be used in aircraft manufacturing was begun at the Valmet Oy Kuorevesi factory. The development work was part of the international Avtek project. The manufacture of composite parts finally shelved the building of safety cabs, which was ended in 1988. At that time the use of  "plastic" parts in airplanes was a new idea and one of which many were unsure. Nowadays manufacturing composite parts is a significant part of the aircraft industry.
Redigo, the last Finnish aircraft?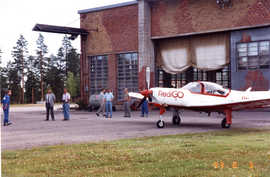 After the Vinka series was finished, a training plane was under development for the international market to ensure continuity of work. The Department for the Development of Aviation Industry was involved in the project. The four-seater, propeller-turbine aircraft Turbovinha was developed from the Vinka and it was intended for use as a versatile training plane. The prototype flew for the first time in February 1985.
As a result of development work on the aircraft, a new product, the Valmet L-90TP Redigo was born. More was invested in the international marketing of the Redigo than ever before in the Finnish aircraft industry. The Finnish Air Force ordered 10 Redigos in 1988.
The plane was also sold abroad to Eritrea and Mexico. However, its sales failed to meet expectations and the manufacturing rights of the Redigo were sold to Italy in 1996.