The museum collections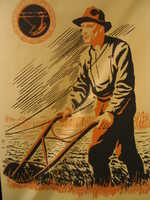 When coming into the museum, the first section has farm machines arranged according to the yearly cycle. It shows for example implements for ground cultivation, sowing, reaping and grinding and forestry tools. In the centre there are a large shredder, grain grader and ground engine. Also shown are a church carriage, church sleigh and threshing machine.
In the back there is a reconstructed kitchen where the visitor can experience the kitchen atmosphere of the post-war depression. On the top floor of the museum is the so called women's work section. It has implements for working and weaving linen as well as laundry, ironing and pressing equipment
On the other side there is milk processing equipment, a brooding machine and equipment for making home-brewed beer. Upstairs you can also find a small collection of hunting and fishing implements.