Important people of the regional theatre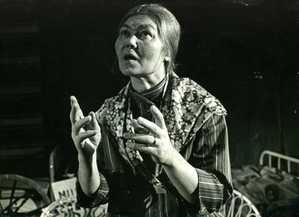 Regional theatre cannot be made without enthusiastic participants.
Even though the people of Jämsä live in the northeastern part of the Häme region, they are certainly not slow or sullen, which are traits usually ascribed to people of the area. Maybe enough humour and vivacity of Savo has flown to the region along the Päijänne lake to make the people of Jämsä lively enough for theatre.
There are many reasons for the local people's enthusiasm for theatre. The pure need to be the centre of attention is not enough. The theatre can also help people overcome their shyness, role-playing increases knowledge of life and working with other people offers social interaction in general. There is also pleasure in making the audience happy.
Museum24 has some examples of the people active in making local theatre. Of course, there are many who have not made it to this section. You can see many of these people on stage. That is why the shows of the youth clubs and other enthusiasts are always worth a visit. There you can find authentic local culture.