This article is not available in English. Please select another language from the navigation bar at the top.
Myllyaitta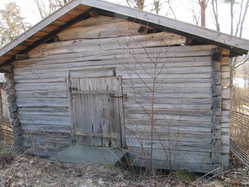 Kokkitallin takana joen puolen rinteessä on
myllyaitta. Tällaiset pienet kylämyllyt rakennettiin purossa tai joessa olevan kosken partaalle. Keväisen tai syksyisen tulvaveden voima sai myllyn rattaat pyörimään ja kivet jauhoivat kyläkunnan jyvät jauhoiksi.
Aitta on tällä hetkellä museon varastona.