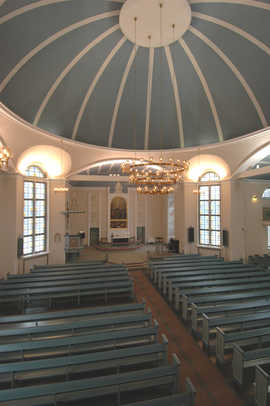 Time for tranquility

Jämsä church stills the visitor with its atmosphere. It invites in many ways to stop in the middle of the hustle and bustle of everyday life. In the church you can almost hear the gentle whisper of Jesus, saying: "Come to Me, all you who labour and are heavy laden, and I will give you rest." (Matthew 11:28)
In the tranquility of the church, one can stop and think about one thing at a time. For example, the altar painting can lead you to think about Jesus. What kind of an example is He setting for us? From what can the grace and love of God liberate me in my own life?
On the other hand, the dirty soles of Peter's feet depicted in the painting can have a liberating message. Every journey leaves its marks, life knocks you about. The Holy Spirit cannot be captured in anything worldly, but one can receive it as a gift.
The invitation to quietness is heard from generation to generation. There is a sanctuary available in all of life's situations.