History of local theatre clubs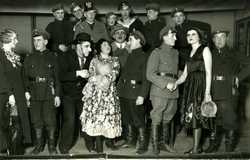 Theatre clubs in the Jämsä area have traditions that are over a hundred years old. Interest in making theatre began in workers' associations and in the club houses of youth clubs.
During many decades, through many changes, new compilations and associations have been formed, all aiming to fill stages and please audiences.
As early as after the wars, an idea germinated about a theatre that would be common to the Jämsä river valley, but it wasn't until the 1990s that it was realised in the form of J+J theatre.
Moving forward is typical of a local theatre. After the slow times in the 1960s the theatre is experiencing a renaissance.
In the summer of 2006 the river valley theatre will be taking yet another step forward by moving to a brand new stage built in Himos. The goal is to make theatre that will draw audiences from all around Finland.