Passenger boats of the Jämsä area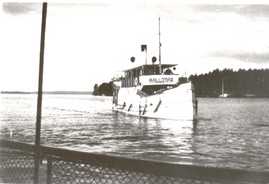 For a long time, Jämsä was a wilderness parish which was connected to the world mainly through its waterways. Passenger traffic in the Jämsä area began in the 18th century, when people travelled along Lake Päijänne to the markets of Sysmä and Anianpelto. The trips were made in small boats or in large, so-called parish boats. Their upkeep has been the duty of the parish since the 16th century. Jämsä most likely had one as well. No record of this has remained.
The first ship to operate on Lake Päijänne was called Suomi. It was a paddle wheel ship, of which it is known that
"the ship Suomi travelled from the Kärkiset strait in the year 1856"
. The first real port of the Jämsä area, the Patajoki ship bridge, was built by the state in the year 1857. In the autumn of 1872 it was ordered to be moved to Juokslahti to the so-called Koljonen shore. After the Vääksy canal was built, Jämsä was connected to the railroad system by water, which meant access to Helsinki and St Petersburg. It also livened up passenger traffic to Jämsä. One of the most famous ship owners of Päijänne was the Jämsä patron Severus Konkola.
This section introduces the originally steam-powered passenger ships that operated on Jämsänjoki river and the area of Jämsä.
Introductory text:
Juhani Heikka
Source and quote:
Suur-Jämsän historia, osa 2. 1962