Jämsänkoski Aktiebolaget 1888 - 1894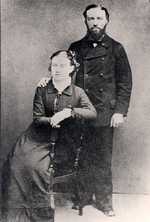 The Jämsänkoski sawmill, its share of the rapids and real estate were purchased by businessman Elieser Johansson in 1887. He was born in 1846 and acquired professional qualifications in pharmacy, in common with a number of the pioneers of Finnish wood processing industry. Johansson operated a big timber business, including a number of small sawmills. Having been widowed, he entered a second marriage with Beda, daughter of the superintendent of the Akaa steam-powered sawmill in Viiala, Per B. Köhlin. His son from his first marriage, John Elieser, later became Chief Engineer at Jämsänkoski pulp mill.
With his father-in-law, Per Köhlin, Johansson set up a company in 1888, the function of which was to engage in "
operation of a sawmill and industrial manufacture of paper and paper pulp by the Jämsänkoski waterfall
". Jämsänkoski Aktiebolaget was a family business, with Johansson the major shareholder. The other shareholders were Per Köhlin and his two sons, and Johansson's brother Edvard, who had married Köhlin's second daughter. Köhlin's son, Per August, became the first superintendent of the factory.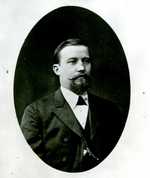 Johansson's business met with many obstacles, due to both financial and technical problems. His brother-in-law, Engineer Köhlin, was not happy as superintendent of the mill, but left Jämsänkoski in 1890. He was replaced by Engineer Hugo Kauffman, whose previous positions included one at Nokia groundwood plant. Later, Johansson himself moved to Jämsänkoski, in order to better supervise operation of the business.